Film Festival & Current Situation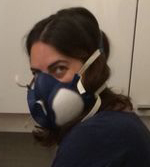 The Stockholm Film Festival is currently on from 5 to 16 November 2014.
The Stockholm Achievement Award goes this year to Uma Thurman.  She will visit us in November to receive her Bronze Dala Horse award and those who bought tickets to the event will have the opportunity in meeting her.
Read more here: http://www.stockholmfilmfestival.se/en/news/2014/stockholm-achievement-award-2014-goes-uma-thurman
Then, I also have to tell you, for those who don't know it yet, that I am pregnant.  Although I am still attending meetings; seminars; doing admin work and reading emails, I am currently on maternity leave and due to doctor's orders have to take things a little bit easier now.
If I look back this year, being a pregnant Makeup Artist, it has been both fun and challenging.
During my pregnancy, I have developed an intense sense of smell which I believe only pregnant women would understand.  Being a coffee-lover myself, the irony is that the smell of coffee became my worst enemy, my Kryptonite.  Other smells which I couldn't stand was smoking; certain perfumes; cleaning materials and hairspray.  If you understand my industry, you will know that it is nearly impossible to avoid these smells.
After four months, the sensitivity to these smells didn't go away and I had to do something to keep my sanity in tact.  So, I bought a spray-painting mask.  Luckily most clients saw the humor in this and didn't mind me wearing it.
Other perks of being pregnant is that most men (and women) turned into gentlemen and offered their space on the public transport to me.  Most clients were excited with me and I enjoyed listening while they were sharing their pregnancy and parental experiences with me.
From here on until next year, I will update my blog whenever possible.  Thank you for following my blog and sending me your kind emails.
Please send me your opinion on what you liked most about my blog; what you liked to see & read and what you would like more to read in the future.