The Royal Treatment – Kungliga behandlingen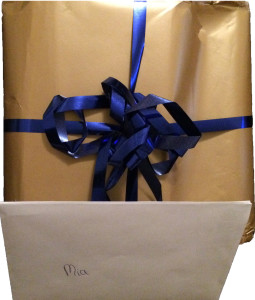 Who watched the Royal wedding of Prins Carl-Philip and Princess Sofia (Hellqvist) on 13 June 2015? What did you think of her makeup and hair? and what did you think of her wedding dress? I thought she looked so beautiful.
For now, while I can't do makeup for the Royal family, I would like to aim to give my bride clients a royal treatment.
A little while ago the company, Wedding in Sweden, sent an Norwegian bride to me to do her hair and makeup for her wedding here in Stockholm.  She was very satisfied with the results and a few months after her wedding she sent me a beautiful gift with a thank you card.   This is what she wrote: "Hei Mia! Tusen takk for den flotte jobben du gjorde på min bryllupsdag.  You made me feel like a Princess 🙂  A small gift for you from my home town for your wonderful work.  Med vennlig hilsen, Monica".  This is so special. This is one of the reasons why I think I have the best jobs in the world.
——————
Vem tittade på den Kungliga bröllopet mellan Prins Carl-Philip och Prinsessan Sofia (Hellqvist) på 13 juni 2015? Vad tyckte du om hennes smink och frisyr? och vad tyckte du om hennes brudklänningen?  Jag tycker att hon var så vackert.
För nu, även om jag inte kan göra smink för den kungliga familjen, skulle jag vilja att sträva efter att ge min brud kunder en kunglig behandling.
En liten stund sedan bolaget, Wedding in Sweden, skickade en norsk brud till mig att göra hennes hår och makeup för sitt bröllop här i Stockholm. Hon var jättenöjd med resultatet och några månader efter sitt bröllop hon skickade mig en vacker gåva med ett tack-kort. Detta är vad hon skrev: "Hei Mia! Tusen takk för håla flotte jobben du gjorde på min bryllupsdag. Du fick mig att känna sig som en prinsessa 🙂 En liten present till dig från min hemstad för din underbara arbete. Med vennlig hilsen, Monica ". Detta var så speciell! Detta är en av anledningarna till att jag tror att jag har det bästa jobbet i världen.