Train of thoughts to porcelain doll – en ide utvecklas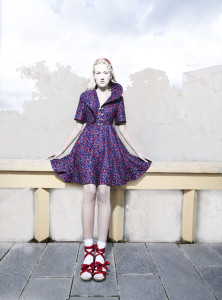 Our team, Fashion Approved, decided it was time to create a new theme for our project. We have done a few dark and colourful makeups and I decided it was time to do something soft and romantic.
This is how the idea evolved…
While Sara digged into her magic bag searching for the right material, I dived into some old fashion magazines.
I remembered I had a tear sheet of a Dolce & Gabbana campaign.
It was an old Italian painting theme and the models' makeup looked more like highlighting & contouring than actual makeup.
Then I thought…hmmm…renaissance (to keep with Sara's style), old, soft, romantic, flowers, arty, minimalistic.
Added inspiration came from Russian Vogue, where a model looked like a puppet on a string .It somehow reminded me of AI, the robot model (HRP-4C) which the Japanese created a few years ago for the catwalk.
That's when I thought we should create our own doll, which will make her own statement.
I wanted to create a contrast of old vs new. First thought of a cracked doll, but that unfortunately looked like something from Halloween and we replaced that idea with a minimalistic approach.
Mårten took care of the feeling for the theme and created something soft, romantic and artistic.
In conclusion we created something old (robot model in porcelain doll finish), something new (renaissance turned new), something borough (Japanese shoes) and something blue (dress).
—————————————–
En ide utvecklas
Vårt team, Fashion Approved, beslutade det var dags att skapa ett nytt tema för vårt projekt. Vi har gjort några mörka och färgglada smink och jag bestämde att det var dags att göra något mjukt och romantiskt.
Detta är hur idén utvecklats …
Medan Sara grävde i hennes magiska väska att söke rätt material, dök jag in några gamla modemagasin.
Jag mindes jag hade en tår ark av en Dolce & Gabbana kampanj.
Det var en gammal italiensk målning tema och modellernas makeup såg mer ut som framhäva och kontur än faktiska makeup.
Då tänkte jag … hmmm … renässans (att hålla med Saras stil), gamla, mjukt, romantiker, blommor, arty, minimalistisk.
Inkom Inspirationen kom från ryska Vogue, där en modell såg ut som en marionett på ett snöre .Det något sätt påminde mig om AI, robotmodellen (HRP-4C) som japanerna skapades för några år sedan för catwalken.
Det var då jag trodde att vi bör skapa vår egen docka, som kommer att göra sitt eget uttalande.
Jag ville skapa en kontrast gamla vs nya. Första tanken på en sprucken docka, men som tyvärr såg ut som något från Halloween och vi ersatt den idén med en minimalistisk inställning.
Mårten tog hand om känslan för temat och skapade något mjukt, romantisk och konstnärliga.
Avslutningsvis har vi skapat något gammalt (robotmodell i porslinsdocka yta), något nytt (renässans vände ny), något staden (japanska skor) och något blått (klänning).