Makeup lessons – Sminkningslektion
If you don't already know then this may be a great time to announce that I have extended my makeup services into two new offerings:
I'm now offering makeup lessons to all ages.
A Swedish Fashion Designer and I have collaborated and as a result created a best-of-both-worlds makeover business together to enjoy the every day life. We are offering makeover services to both private clients and corporate companies.
A mom of a teenage daughter bought a makeup lesson for her from me as a gift.
It included a complete color analysis; personal shopping for makeup products; products & tools knowledge; how to create 3 different makeup looks & techniques and what colors will be in fashion in spring 2016.
A few weeks ago we booked a day for her lesson. On the consultation day we did a color analysis and I gave her a color chart to keep for future references to know what colors (makeup; hair; clothing & accessories) will suit her best.
We went shopping together and with her budget and the latest makeup colors in mind, I helped her choose a few new brushes & products and she bought a brand new mini makeup kit for her lesson.
On the day of her makeup lesson, I showed her on one half of her face how to do her makeup while she looked into a mirror and created the same look herself on her other half of her face.
We had so much fun playing with her new kit. She was a great student, hungry to learn new makeup techniques and the results were beautiful.
She inspired me to offer now makeup lessons for individuals; mom & daughters or a group of friends. What better time to take a makeup lesson than in the upcoming sport holidays?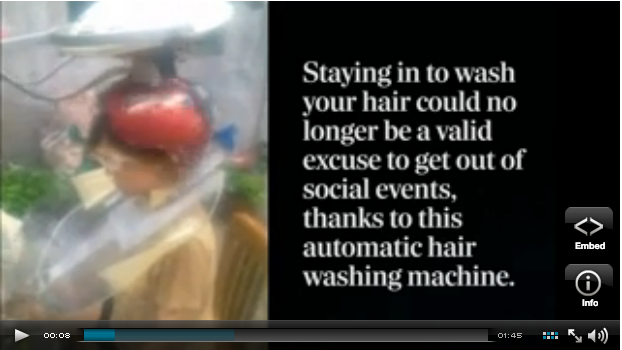 Thinking of the Swedish "sport lov" today's beauty tip is about washing your hair.
I remembered this tip which I learnt from my childhood hairdresser. You can think of it the same way as you would wash your face. When cleaning your skin, your facial products will open up your pores and wash away the dirt and excess oil. Afterwards, you would use a toner to restore the PH balance of your skin and to close the pores. Well, when washing your hair, you would first wash your hair as usual (lather, rinse, repeat), but after the second wash, instead of rinsing your hair with normal medium to warm water, you should end with rinsing your hair with cold water.
I searched on the internet for an appropriate picture and came across this very interesting and funny video about an Asian women who invented a hair washing machine. Just had to share it with you. Here is the link: http://www.telegraph.co.uk/news/newsvideo/viral-video/11878164/Woman-tries-out-automatic-hair-washing-machine.html