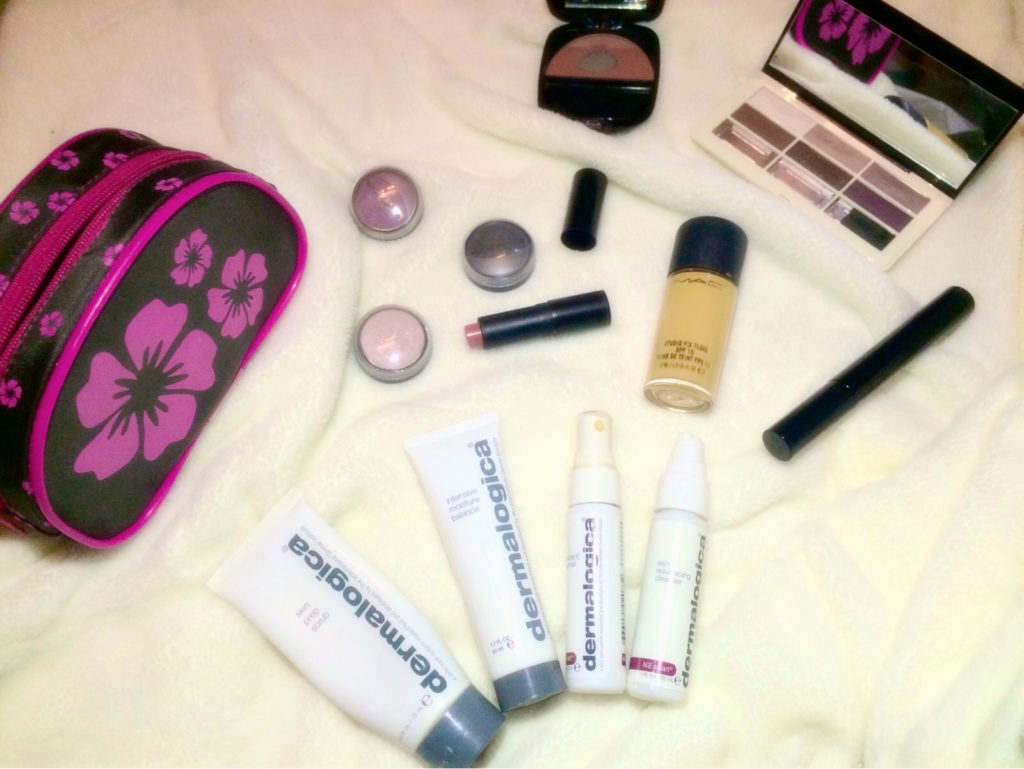 So many people have asked me this question before. Which makeup do you wear or ooh I like that color what do you have on?
People are starting to get ready to travel for "höstlov" the autumn holiday next week and I thought what better time to share this secret, what is in my makeup travel bag, with you 🙂
Although I would have like to wear Kryolan everyday to work, it is not always possible.
For one the products that I use are quite expensive and two since I became a mother, I am applying most often the 5 minute look than the 20-30 minutes look which I was used to.
When I travel, I like to travel light. Doesn't matter where we are going, if it is possible, I normally travel with just one small suitcase.
Makeup application actually starts with a very good skin care routine.  It is hard to get a smooth finish without it.
If we are at home, I use my large Dermalogica facial wash and my skin prep scrub over it.  Then I would also use the toner which comes with a mist spraying bottle and end with the larger intensive moisture balance.
As mentioned earlier, I like to travel light. Dermalogica has a cute small travel skincare kit which I think is just perfect for my suitcase.
When it comes to makeup. If possible, I would wear an individual Kryolan creme foundation. If not, I would wear M.A.C's studio fix liquid foundation which has an SPF 15 in it.  This normally work so well for my skin during the drier months like autumn and winter.  Remember, I am now sharing my five minute makeup secret.
This means I normally skip a primer; concealer and powder.  After all, the most important part is the end result of my client 🙂
For eyeshadows, I normally used Maxfactor light pink "pearly pink"; "passionate plum" and dark grey "onyx" colors (when I was still going out at night); A black eye liner and end with a coat of black mascara.  Normally I use a waterproof mascara from the Makeup Store.
Recently, I found a beautiful natural eyeshadow palette at H&M for such a good price.  It was only 130 SEK for 9 eyeshadow colors.  A real bargain if you ask me.  The name of the palette is "aubergine dream".  It has a selection of light to darker hues of pink and purple, which by the way, is very popular colors for this coming winter.  This eyeshadow palette can be used for both day and evening events.
My favorite blusher color is this rose color. It is from a South-African brand called Annique. I love that color and if I could find it in Sweden I would buy it today.
The lipstick which I like to wear is a rosy cream color from the Makeup Store called "poppy".