Bröllopsguiden Bröllopsgalan 2016
Bröllopsguiden has a yearly wedding gala, which was last weekend and we were invited.  It was such a beautiful invitation created by Calligraphen.  There were two choices to choose from.  The dresscode was either black tie or 1920's theme.  This sound like so much fun and I felt we just had to go, for two reasons.  First reason because it's an event of Bröllopsguiden, something I do not want to miss out on.  Last year was the first time that we could go and it was an amazing evening.  The second reason being since we got our baby, our social life when it comes to dinner at a restaurant; clubbing or seeing a movie, is non-existent.
So you can imagine how excited I was.  I was starting to look around for a babysitter and scanning through my wardrobe to see what I have which might still fit me.  Luckily one of our friends offered to arrange a playdate for that evening.  She happened to have three different 1920 style dresses which I could borrow and I was thinking of wearing the dark blue velour dress.
When it comes to makeup, I didn't exactly think about plucking my eyebrows as thinly as they did back then, but I would have used a creamy colored eyeshadow with a smudged black eyeliner; rosey cheeks and a darker reddish color lipstick.
 Why do I keep saying this is what I would have used or wear?  Well, as "Murphy" (ever heard of murphy's law?) wants it.  Our son caught a flue at kindergarten.  Then it spread to me and my husband.  We were both so ill.  I was coughing my lungs out.  I tried everything I could to get well, but that was just not enough time and we had to cancel on the last minute.  Hopefully our immune systems would be better prepared next year…hahaha
Read more about the Bröllopsguiden's bröllopsgalan 2016 here: http://www.brollopsguiden.se/festen/brollopsgalan-2016/490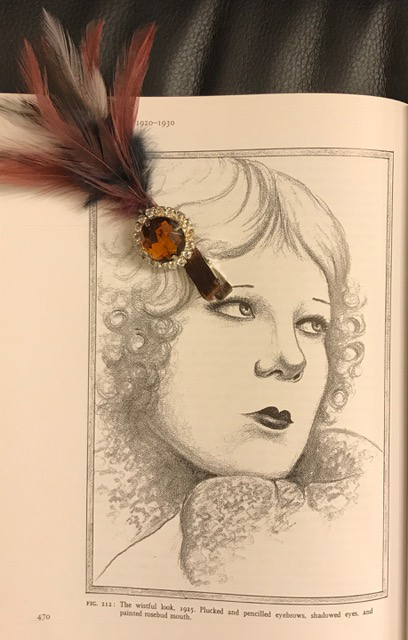 Here are some 1920 inspired pictures of makeup; fashion and art from one of my makeup theme books called Fashions in makeup from ancient to modern times.  Written by Richard Corson.
To read more on the materials and fashion from the 1920's, click here: http://vintagedancer.com/1920s/fabrics-and-colors/