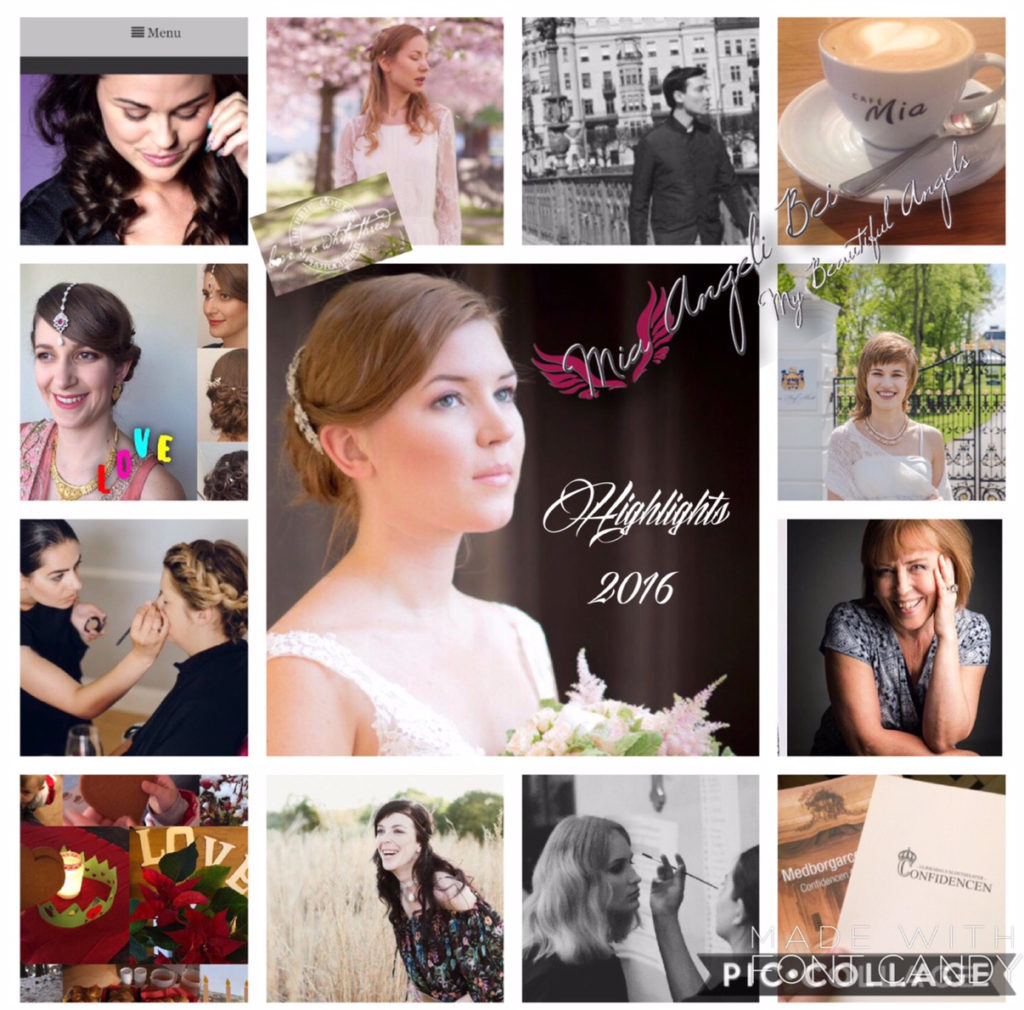 It is a new year and soon it is time to create new goals.  Hope your 2016 has been a good year and that 2017 will be even better.
Before we continue with new years resolutions, I created a collage of some of last years highlights.
Last year our little one year, was such a busy body.  He was running around, exploring new things and thought it would be fun to try out a few of mommy's makeup products.  He got creative and wanted to see how far he can throw mommy's papers to create a collage of his own on the makeup studio's floor.  Needless to say, it was not always so easy to work while I had him 90% of the time.  Every year, I like to update my website just to give it a fresh new look.  Last year, it was impossible to do it myself and therefore I turned to a web design company to refresh it for me.  I have also started to be a little bit more active on social media.
My clientbase grew.  More brides started to contact me and I have received so many compliments and satisfying feedback from happy brides.
I have met a few wonderful people with whom I started to collaborate with.  Here are a few of my collaboration partners which I would like to mention: Wedding Photographer Cherrie Coutts Eklund a florist which creates the absolute most beautiful wedding bouquets ; the owner at Brud och Fest with breathtakingly beautiful wedding dresses and a Wedding Singer with the voice of an angel.
Our makeovers was starting to take form as Sara and I got all our team members together.  We signed a contract with the talented Photographer Daniel Gual which have and will continue to take pictures for our private clients.  More things on the horizon here, which I don't want to mention now because I don't want to jinx it.
I was starting to do more makeup looks and hairstyling for film advertisements. One of the highlights here was working with the founder of Bloglovin and model for the Fashion Designer Michael Kors.  It was for an advertisement for the opening of a new store in London.
On a bit more personal level: Mia Angeli Bei – My Beautiful Angels turned four in Sweden.  We became Swedish citizens, so yes we are here to stay!  The brilliant fashion and celebrity Makeup Artist, Mia Högfeldt, chose me to be one of her assistants and what a wonderful ride it has been.  I have worked a few times with her the past year and she helped me to make one of my dreams a reality.  This is probably the biggest highlight of 2016, it was when I assisted her at the Damernas Värld Awards and fashion show. For my birthday I bought Mia's makeup book, not because I needed it but because I want to know everything about my role model.  I highly recommend this book.  It is for everyone, from the everyday person to celebrities.  You can get hold of the book here  Later in August, our toddler started kindergarten.  Finally, I could get some breathing space to work, but as most parents know the first year of kindergarten with a toddler is more spent at home than in school.  We also went for the first time in about two year to South-Africa where our son could see where grandma and grandpa are living.  Lastly when we were in South-Africa, I met another Photographer and we arranged a shoot together.
I have already a few exciting things lined up for this year, but for now it is still a secret.  So, you will just have to come back later to read more 🙂