Elle gala & Guldbagge film awards 2017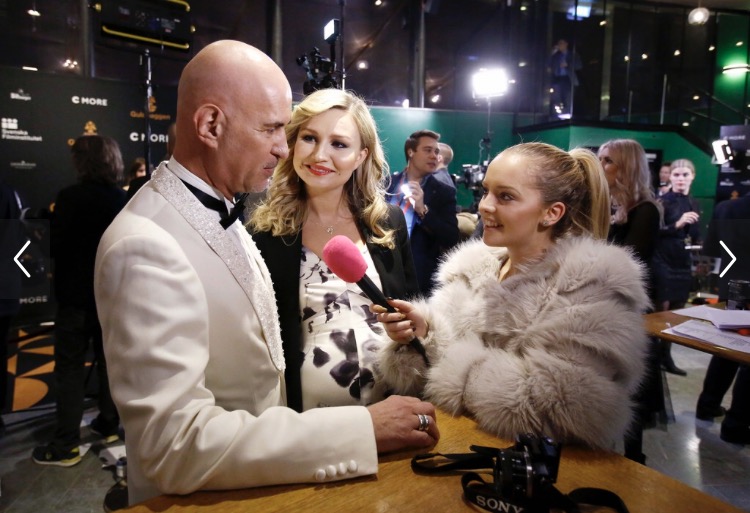 Photocredit: Patrik C Österberg (taken from Flickr)
The Guldbagge film awards 2017 was this passing Monday evening 23 January held at the Cirkus arena in Stockholm.  Remember I talked a bit earlier this year about the film Director Ingmar Bergman?  Well, he was the very first Film Director to receive the Guldbagge award in 1964 for his film Tystnaden (The Silence).
Nominees can be Swedish fiction and documentary films which premiered last year for at least 70 minutes running time.  It must have shown in cinemas with public screenings for at least 7 days.  The jury and nominated committee consists of 36 members who have extensive working experience of the film world.  The film (and people) should be nominated in the Guldbaggen's different categories.  Only the categories of Best Short film; Best Documentary Film and Best Foreign Language Film are not elected by the Nomination Committee, as these have their own nominations groups.  The jury consists of 8 members with extensive professional film experience and they choose the winner from the 3 nominees in each category.  The Guldbagge Awards for Best Achievement and Newcomer of the Year are directly chosen by die jury.
See more backstage pictures on Instagram @guldbaggen
As you can see, it is a huge honour to receive this Award and the Guldbagge itself is a piece of art.  It weighs 1.2kg and after a complicated process, genuine gold is finally added.  There are 19 different categories and I will list only a few here which is most interesting to me at this point of my career.
The Best Film is awarded to Jätten (Giant) and the Producers are: Maria Dahlin; Morten Kjems Hytten Juhl.  Best manuscript: Johannes Nyholm for Jätten (Giant).  Best Costume: Kicki LLander for Den Allvarsamma leken (the serious game).  Best Mask & Makeup: Eva von Bahr for Jätten (Giant).  Best Shortfilm: 6A of Peter Modestij.
Read more about the Guldbagge Awards here: http://guldbaggen.se/english/the-guldbagge-awards-faqs/ and more about the winners here: http://www.sfi.se/guldbaggelistan
The Swedish fashion magazine, Elle, had their annual fashion Awards and gala evening last Friday.  Diana Orving received the price Årets Designer (Designer of the year) Read more here: http://www.elle.se/diana-orving-det-kanns-tungt-att-fa-den-har-titeln/
Next week is the start of Stockholm Fashion Week.  I will keep a close eye on Metro Mode to see what I can find.  Hopefully I will be able to attend the Swedish Fashion Talents to see what is new on the Swedish market 🙂