Short Film Premiere – Välkomna till Soltorp
Last night was the premiere for the short-film movie which I worked on earlier this year.  I am so excited to tell you this, it feels like I have a very happy bunny inside of my hopping up and down.  Just taking a moment to breath and calm down before I start writing again…haha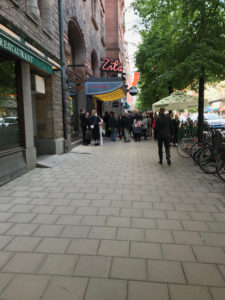 This is the first time in Sweden that I am working on a movie and the very first time ever that I have been invited to attend the premiere.  So, I had no idea what to expect.  Honestly, I thought I am only going to see the movie which I worked on.  You have heard me saying this before.  Being a mom with a two year old, I don't have the luxury of getting out and seeing a movie on cinema.  Our son doesn't have grandparents here where we could just quickly drop him off to and because he's a bit shy (sometimes, only when it suits him) we can't leave him with just any babysitter.  We knew about the premiere for some time and I saved it on my phone's calendar.  Never had the time to arrange for a babysitter and a day before the premiere, a reminder went off.  I was panicking a little bit and tried to find someone to look at our son, but our friends' kids were either sick or they were not available.  Luckily, yesterday morning I got a reply from another friend telling us that they could look after him for two hours.  This was the first time we left him with them.  So, we couldn't let him stay for too long.  My husband rushed home after work and I rushed to get everything ready for our son's playdate.  Of course, I didn't really had time to get myself fixed or even to comb my hair, but what's new…haha  When we left our son, he was so clingy and didn't want us to go, but there wasn't much time left and I had to give him a bit of tough love.  We rushed to the cinema called Zita in Östermalm.  Just a few moments before all the guests entered to find their seats, we arrived all sweaty and hungry.  We didn't had time to eat dinner and just grabbed popcorn and as much sweets as we could manage.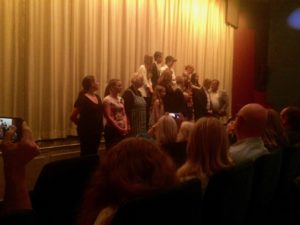 I am still planning on telling you what the movie is all about and what it was like working on set.  So, see this as Välkomna till Soltorp part 3.  Yes, I'm working backwards…haha  I was wondering what I would say if the movie wasn't as good as I thought it would be.  We all thought it would be good, because we knew the actors and storyline (written by Kristin Möller) were great, but we didn't expect it to be this good.  Really, what would you expect from a group of film students?  They all exceeded our expectations. You could see how well Nathalie Rosenqvist, the film director, directed the actors in order to tell the story.  Adrian Wretljung's film work was so amazing, I could feel that I was watching a movie from the 1940's.  Love Molander was the producer and was also responsible for the sound, special effects of the sound and yes, he even did the music himself.  Agnes Stenkrona was responsible for the costumes.  I am running out of verbs to describe how good this movie was…haha  It just goes to show that you really need a great team with a well thought plan to make a movie come to life and believable.
Like I said, I was not prepared to be called on stage and I really didn't expect to say anything, but here is my 10 seconds of fame…haha
What an amazing feeling, so proud, to be part of this short film and to see my name at the end of the movie.
When I was watching, I just had to quickly take a few pictures.  Just enough to make you curious 🙂  Stay tuned for the real story.