Lunch at Cafebåthuset with a view over the water. Taken with my iphone.
Beach wedding in Solna:
Before the big wedding season rush started, I met a few new people in the wedding industry. We came together to create a beautiful wedding in Solna. This is why we did it and what happened behind the scenes.
As a wedding Makeup Artist, I like to meet other like-minded artists to connect with. In this way, if one of my brides are looking for a certain service provider, I can refer my brides to them.
Jessica Hanlon from Eve's Eye Picture Perfect were looking for a Makeup Artist, when she first contacted me. Kristina Veltblom from Systerblom found me on Instagram and asked me if we could do a beach wedding theme together. Normally when I am interested in working with someone, I like to meet them beforehand to get an idea of who the person is; how he/she works and if our work has chemistry together. I want to be sure that I can trust my collaborating partners and be sure that he/she is reliable and will take good care of my brides.
After two wonderful meetings with Jessica and Kristina, we decided to work together by creating a wedding in Solna. Not too far from here, down at Huvudsta Strand. I found a charming cafe boathouse, overlooking the waters, which could be transformed into a wedding venue. After meeting up with the owner, we all agreed that this would be our location for our beach wedding photoshoot.
I started to create a document which would keep track of the whole setting – scenery, what type of light we required etc; to describe all our ideas on paper and I created a time schedule for the photoshoot as well. Kristina created a mood board on Pinterest and we pinned all our ideas down on the board. White and green would be the main colors with some earthy undertones which would remind you of the natural colors at a coast.
Jessica started to gather all the props and small details which we would use.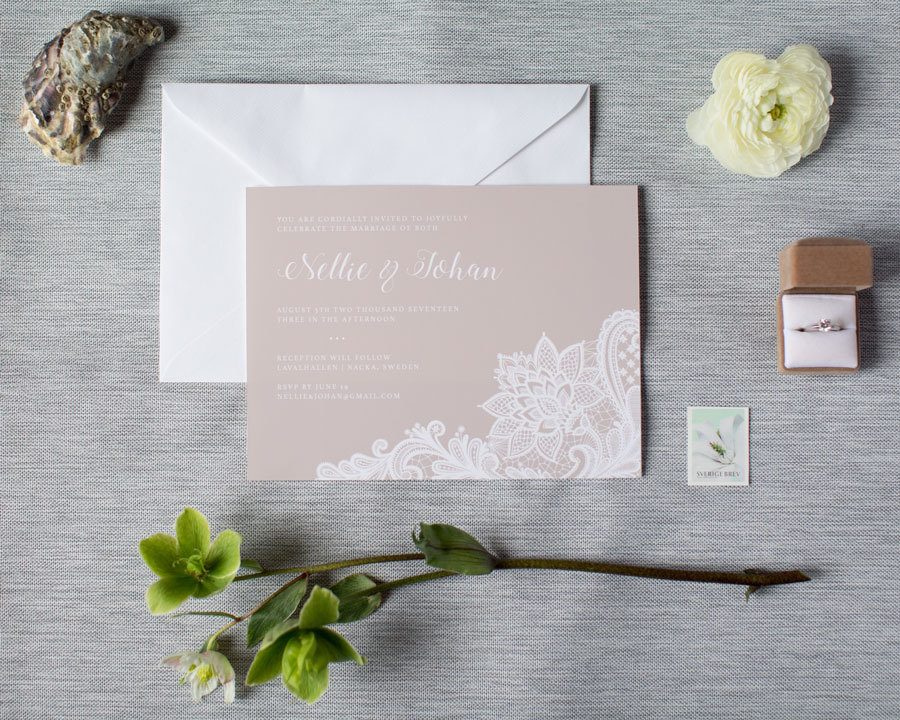 She created and wrote a menu and small name cards, each with lace details, for the place settings on the tables.
Jessica also arranged an assistant for that day to be sure that we get all the lovely pictures from all angels. So, we wouldn't miss anything.
The dancer, Julia Lundgren, were happy to be our model and bride. Kristina arranged a wedding dress for her and asked Jaynie from Cake Couture to bake a beautiful cake for the wedding table. The off-white wedding dress was a long fitted summer dress covered in lace with a single piece of satin right beneath the breast line.
The 3-tier cake had a bottom which seemed to be covered in lace. The other two layers seemed to have a satin looking lining at the bottom of each layer. It looked so dreamy. It was too beautiful to eat.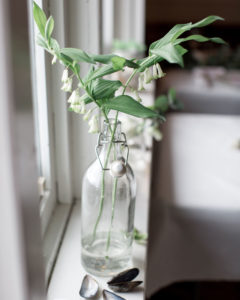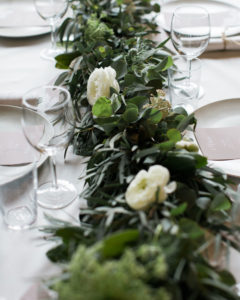 It was a cold and rainy day. Julia and I started early in the morning at my studio with her makeup and hairstyling. Around 13:00 we went down to the location for Julia to get dressed and where we met everyone else involved in the photoshoot.
While we ate lunch and introduced ourselves to each other, Patrick started to set the wedding table. Although it was paper serviettes, it looked like elegant fabric napkins. These are napkins which I found in a goodie bag at a wedding expo. I kept it for a rainy day 🙂 and bind it with a piece of string to complete the theme. The napkins are from Duni
Beach makeup and hair: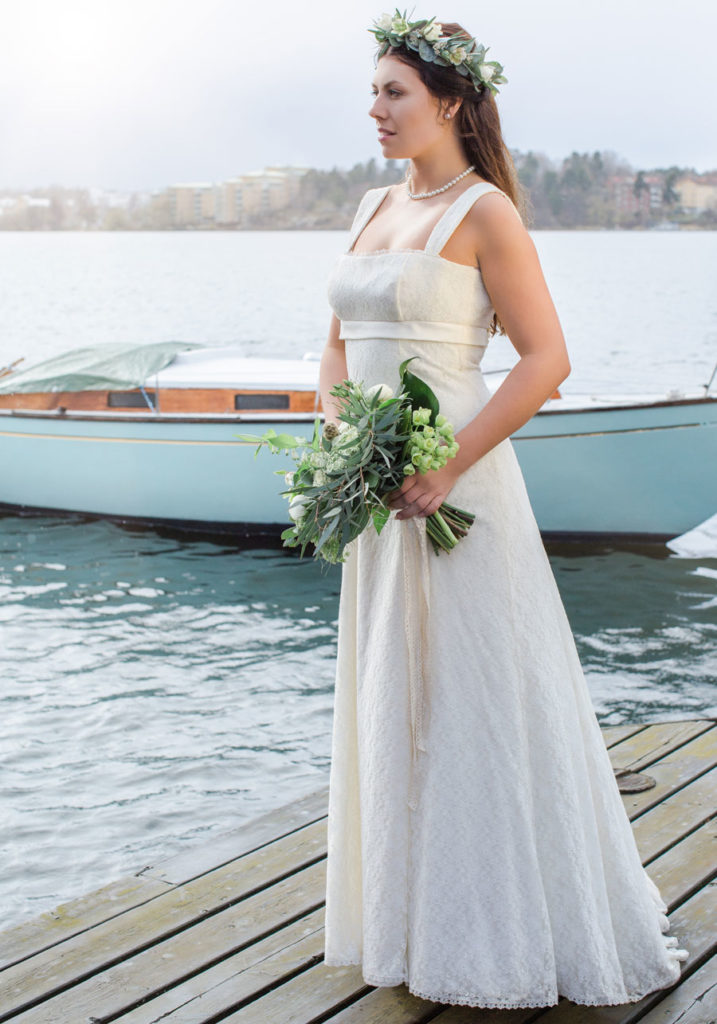 For Julia's makeup, I wanted something soft and minimalistic to suit the beach theme. So, I decided on using cool colours which would bring out her lovely blue eyes and compliment her complexion.
For her hair, instead of doing the regular beach waves, I decided to put a twist on it. I took smaller pieces of hair, twisting it from the roots to the ends and clamping it with my hottong. Then sprayed it with a salt water spray to give the hair more texture and more natural looking as if she was walking on the beach. I really like how it turned out. It almost looks as if she has small dreadlocks, but still soft and romantic looking. Then we added her flower crown and I draped the sides of her hair softly to the back and secured it with hair pins. We chose to accessorize Julia with the obvious choice of sea water pearls.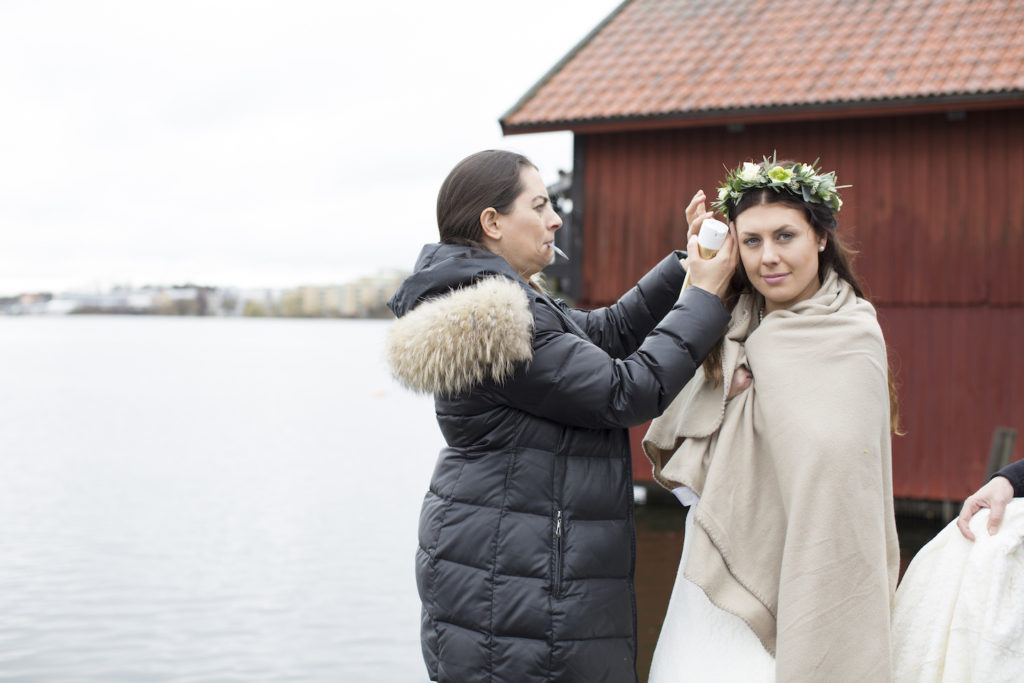 After lunch, I did a few touch-ups for Julia to make sure she looked fresh for the photos. The dress was just slightly too small and I used some extra lace from the wedding bouquet and pinned it down with safety pins to make sure the dress closed at the back.
We strictly followed the time schedule and got everybody and every wedding item in place and then Jessica started to take the wedding pictures.The lighting was a bit challenging. Due to the rainy weather, it was cold and dark at the location.Luckily, with all Jessica's professional equipment and props, she made it work and the photoshoot was a huge success.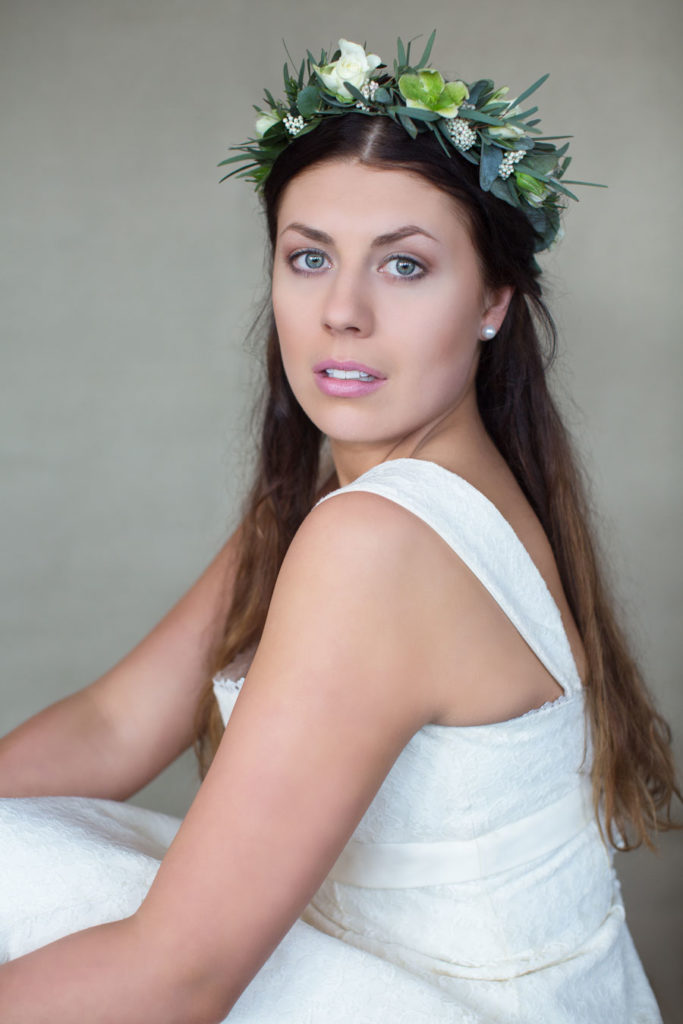 The photoshoot was such a great success, that one of Sweden's largest wedding blogs, Sisters In Law, wrote about the theme in her blog.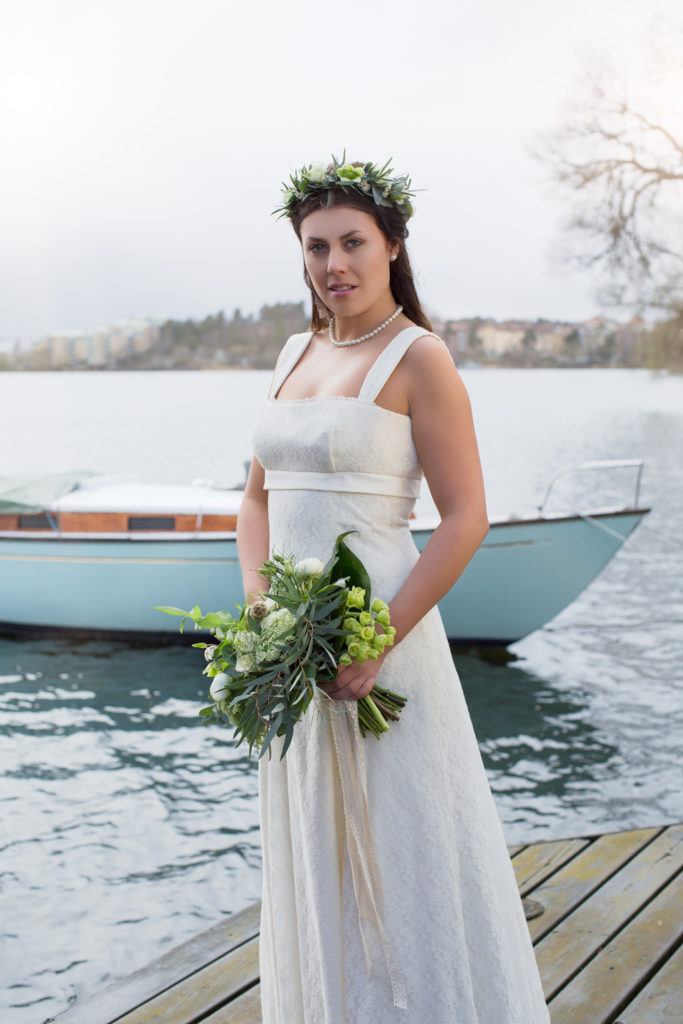 It was a pleasure in working with every team member and I would warmly recommend the following collaborating partners for your wedding:
Wedding Photographer & Stationery Designer: Jessica Hanlon from Eve's Eye Weddings.

Wedding Flowers: Kristina from Systerblom.
Wedding Cake: Jaynie from Cake Couture.
Wedding Location in Solna: Patrick from CafeBåthuset.
Wedding Dress were provided by: Loretta Willander. You can find her through Face Book @ateljeloretta
Bride: a special thanks to Julia Lundgren for being such a great model, to stand in the cold and rain for us to get the perfect picture.