When your work appears in wedding magazine, Bröllopsguiden. / Brud smink och hår i Bröllopsguiden.
This has been a very good year thus far. Which I am very thankful for. As we are getting closer to Christmas and things are starting to slow down, I can now make time to tell about all the wonderful things that has happened. / Den här året har varit bra hittills, som jag är jätte tacksamma för. Julen kommer snart och saker ska lugna ner lite. Nu kan jag berätta lite mer om allt underbara saker som har hänt.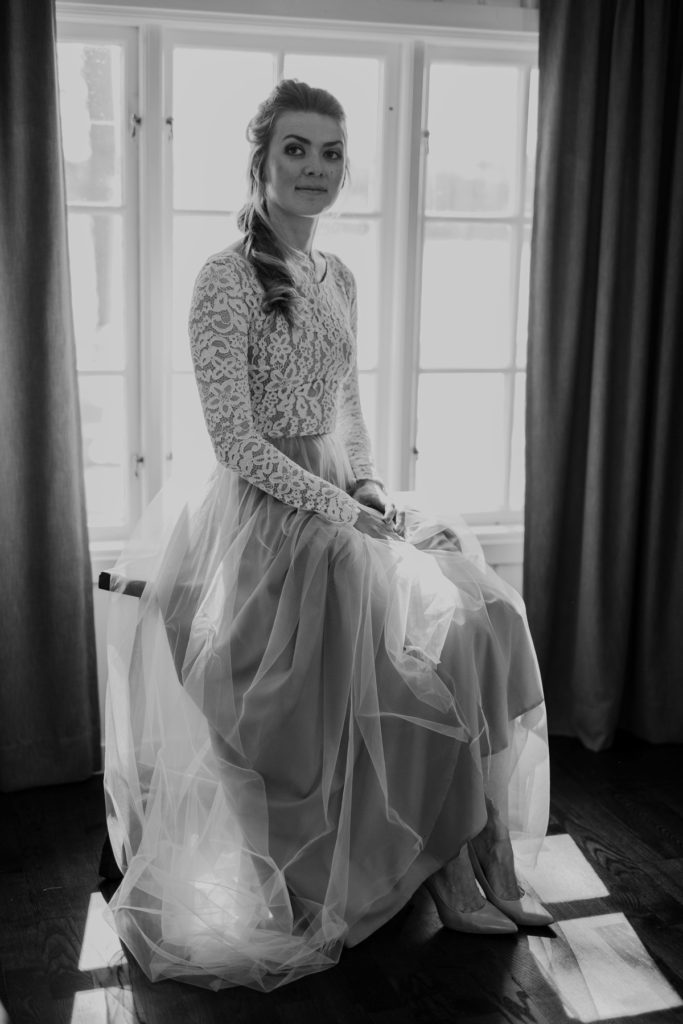 The wedding planner, Anki from Wedding by Moalee, asked me if I would be interested in being part of a planned workshop and that she is planning on sending in our work to the Swedish wedding magazine, Bröllopsguiden. I felt quite honored that she asked me and was immediately interested. This time I only had to focus on making the bride look beautiful with makeup and hair because Anki took care of all the other arrangements. A wedding is a big event to plan and a wedding planner think of so many things and small details which you probably only discovered a few days before or on your wedding day. / Anki, den bröllopsplanerare av Wedding by Moalee, frågade om jag kan göra smink och hår till en planerad verkstad som hon har tänkt att skicka in till Bröllopsguiden. Jag var rörd att hon frågade mig och var omedelbart intresserad. Denna gång fokuserade jag enbart på att sminka bruden fint och göra hennes håruppsättning. Allt annat tog Anki hand om. Ett bröllop är ett stort event och en bröllopsplanerare måste tänka på så mycket saker och små detaljer som man inte tänka på tills man är redan i planeringsprocessen.
Moodboard theme: romantic, bohemian. Colors: purple, mint green & gold.
Anki was arranging the whole wedding workshop with two different themes. The first theme was romantic, bohemian where the bride wore a beautiful purple dress. The color theme includes purple, mint green and gold. The first time I saw the moadboard of how she is planning to do the table settings; what the colors would be, and how our bride would look I just knew that I wanted to do a messy bohemian braid with makeup which would suit the bride and her dress. / Anki arrangerade två olika bröllopsteman. Första teman var romantiskt, bohemiskt och bruden hade på sig en lila klänning. Efter jag såg den moodboard visste jag omedelbart att jag ville göra en slarvig bohemiskt fläta och sminka bruden med färger som passar hon och klänningen.
Small details: putting it all together. / Små detaljer gör pricket i.
After I braided our bride's hair, I added a few small flowers which they call "baby's breath" to complete her wedding hairstyle. / Efter jag flätade hennes hår satt jag små brudslöja i håret att avsluta med en fin brudfrisyr.
The second theme was romantic, elegant.
The bride wore a beautiful white dress which is made from Welsh lace. When I saw Anki's moodboard with the colors pink, white and gold and that it would fit our bride, I thought of creating an elegant hairstyle with a romantic twist and finishing the look off with a few pink roses which matched her wedding bouquet. For the bridegroom, I applied a minimal amount of foundation and powder and brushed his eyebrows to make him look perfectly groomed. / Bruden hade på sig en vackert vit klänning i gepyrspets. Efter jag såg klänningen tänkte jag att skapa en eleganta brudfrisyr med rosa rosor som avslutar med en romantiskt känsla. Brudgummen har jag lätt sminkat så att han ser naturligt och fräscht ut.
One of my favorite photos from the workshop. / Min favorita bild, den sista innan vi gick hem.
After the photoshoot, I went back to pack up all my makeup and hair styling tools. / Efter plåtningen gick jag tillbaka att plocka upp all mina sminkningar produkter och hårverktyg.
Soon thereafter Anki told me that our work will be published in the next edition (available from August 2018) of Bröllopsguiden's wedding magazine. When something like this happens, of course you have to celebrate with a glass of bubbly. Cheers! / Efter ett tag meddelade Anki mig att Bröllopsguiden publicerade våra bilder. När någonting sånt händer är det klart att man ska fira det med mousserande vin. Skål!