Swimwear Photoshoot: Dewy skin and pastels for spring.
We did a photoshoot for a swimwear designer, Natasha, and I did the make-up and hair to fit the themes. Although it is spring, the wind is blowing and we are heading to warmer days, the heat is not exactly here yet. So, how do we get that youthful, dewy skin when the weather doesn't want to play along?
Well, to start with, you need to do your daily skin care routine. If you have been a bit lazy during the winter with your exfoliator, now is the time to get it out and use it after your cleanser. It will remove all the build up of dead skin cells which makes our skin look a bit dull. The winter makes our skin dry and I bet you didn't drink as much water as you should. It would be a good idea to use a hydrating mask to bring back that lost moisture to your skin. Remember to use a toner to restore your skin's ph-balance and to close your pores. Finish off your skin care routine with a hydrating moisturiser. Before I started with the foundation and concealer, I used M.A.C's Prep and Prime for a soft, dewy look on her forehead and chin.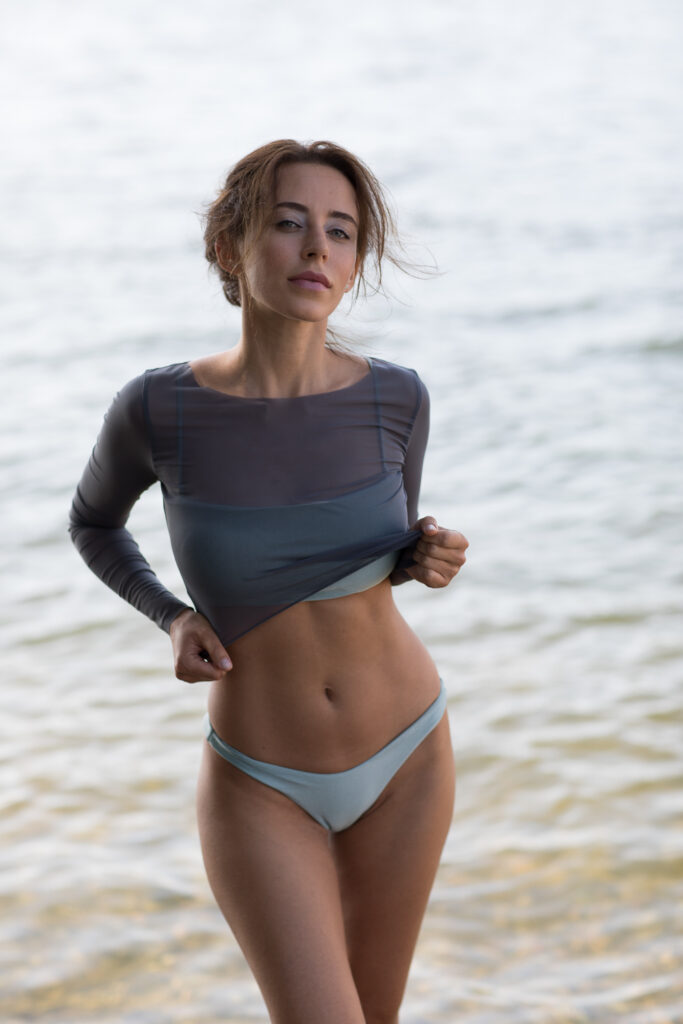 Pastels are in this spring. To compliment Natasha's beautiful grey-blue eyes together with her steel gray top and blue bikini, I swept a soft, pastel blue eyeshadow in the corners of her eyes. Then I added just a touch of vaseline over the eyeshadow. It gives a nice highlighting effect on her eyes as if the water was reflecting on her eyes. Then I finished off with a thin layer of black eyeliner pencil and a coat of mascara.
For color on her cheeks, I applied a soft, barely there natural blushing color.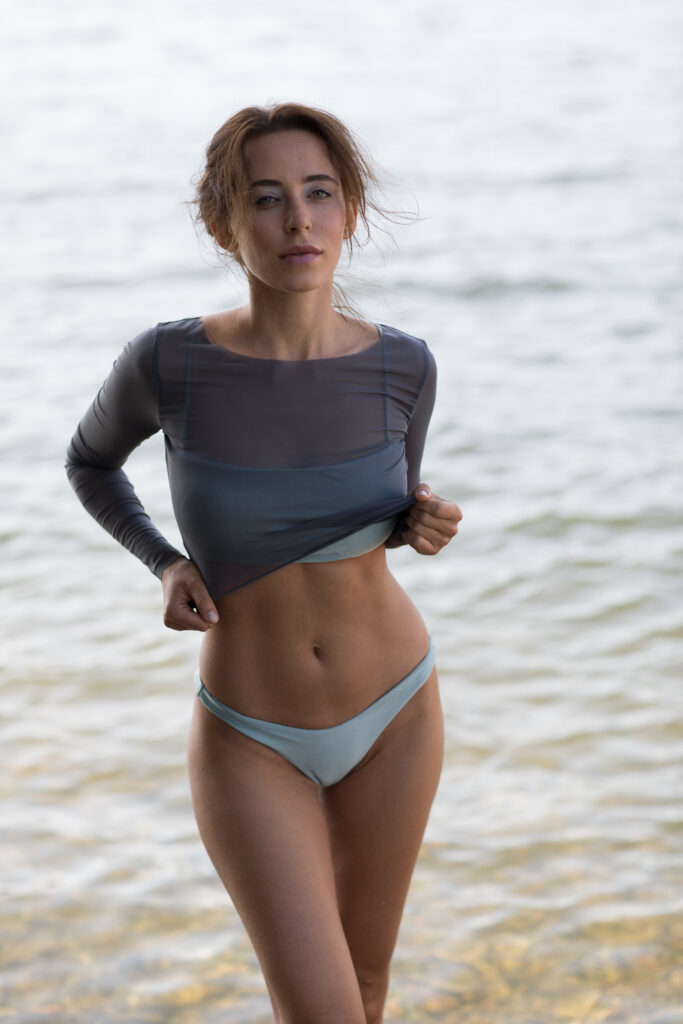 M.A.C Cosmetics' lip conditioner hydratant is one of my favorite products in my kit. I used that to prepare her lips and then applied a layer of Kryolan's Ultra lip shine in warm rose and applied the lipgloss in the color sheer shine on the outer edges of her lip to give it that shiny wet lips look.
To give Natasha's hair that lovely "I've been to the beach-look", I sprayed her hair with Björn Axén's salt water spray beach texture & volume.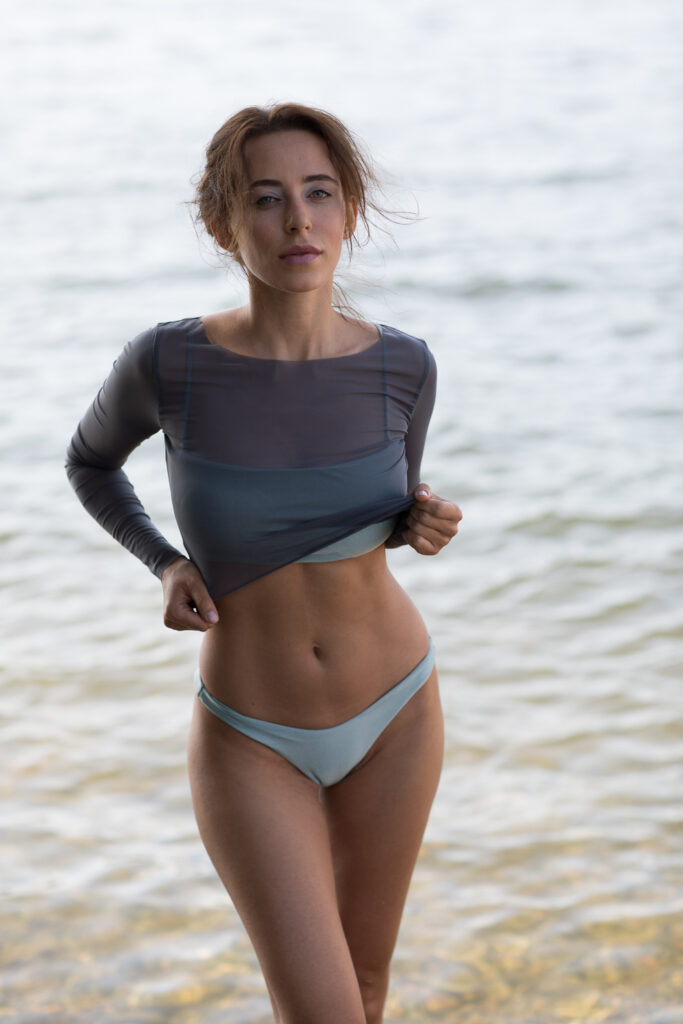 Follow my tips & tricks and soon you will look ready for the beach too 🙂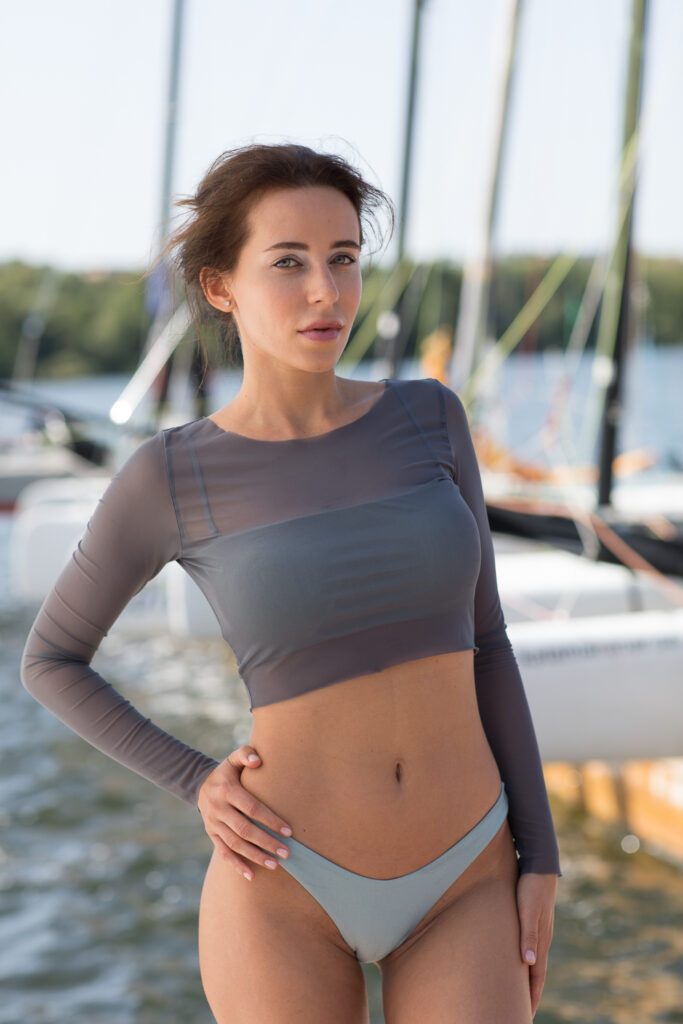 Swimwear Designer and model: Natasha. Swimwear Brand: Napa Swimwear To see their range in english click here. Location: Cafe Båthuset in Solna. Photographer: Mårten Levin. Make-up Artist & Hairstylist: Mia van Staden from Mia Angeli Bei – My Beautiful Angels.