Styling African hair for a wedding
Welcome to a new year of beautiful makeup and hairstyling.  Today, I start by telling you a bit more about Mahlet and what she wanted for her wedding.
Mahlet wrote to me, asking if it will be possible for me to style her hair for her wedding.  She also wanted me to apply a beautiful makeup for her.  African hair is quite different from Scandinavian hair.  It is much drier and it needs special products to care for.
First, she wanted me to straighten her hair and then curl and pin it up in a certain style.  In Sweden, you don't get to do African hair so often.  It does take some time to do this process, but I was up for the challenge and wanted to help her.
This is what her hair looked like before I styled it…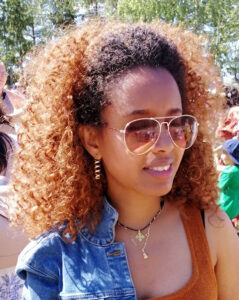 I used the Cantu shea butter range to prepare her hair for the straightening process.
After straightening her hair, I curled it with a hot tong and pinned her hair up in the style which she wanted.
Here are two examples of hairstyles which Mahlet wanted…
We were both quite surprised and happy with the end result.
Mahlet, thank you for trusting me to do your makeup and hair for your wedding day and for sending me the photos.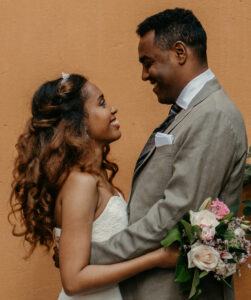 To all the African ladies out there, reading this post, you are very welcome to contact me if you would like me to style your hair 🙂
---
Hårstyling för Afrika hår.
Välkommen till ett nytt år av vackert sminkning och hårstyling.  Idag börjar jag att berätta lite mer om Mahlets bröllop och hur hon ville ha hennes smink och håret till hennes bröllop.
Mahlet skrev till mig och frågade om jag kan styla hennes hår till hennes bröllop.  Hon ville också ha en vackert sminkning.  Afrika hår är ganska annorlunda av Skandinaviskt hår.  Det är mycket torrare och behöver speciella produkter att vårdas.
Först, vill hon ha att jag skulle räta ut hennes hår och sedan locka det i en viss hårstyle.  I Sverige få man inte göra Afrika hår så ofta.  Det är ett process och det tar tid, men jag tänkte att det var en roligt utmaning och ville gärna hjälpa henne.
Så här såg hennes hår ut innan jag började styla…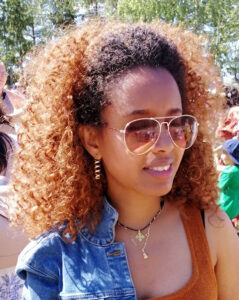 Jag användande "Cantu shea butter" produkter att förbereda hennes hår för den räta ut processen.
Efter jag rätade ut hennes hår, har jag lockat det i ett viss frisyr som hon ville ha det.
Här är de två exemplar av hur hon ville ha hennes frisyr…
Vi båda var vänligen överraskad och glad med det slut resultatet.
Mahlet, tack för att du anlitade mig att göra ditt smink och hår till ditt bröllop och tack så jättemycket för de fina bilderna.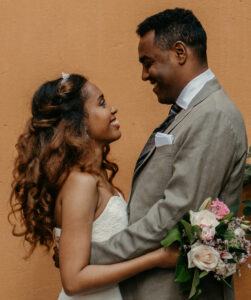 Till alla Afrika tjejer och kvinnor som läser det här, känner dig jättevälkommen att kontakta mig om du vill ha att jag ska styla ditt hår 🙂