Celtic-Nordic Wedding – Seltisk-Nordisk Bröllop
It is a new year of brides and weddings.  The covid-19 restrictions have been lifted.  This means more and bigger weddings. I am so excited to see what this year will bring.  Hopefully, more brides will come to me and ask me to do what I am so passionate about i.e. helping brides with their makeup and hairstyling and creating new beautiful looks for them.
As I am paging through the pictures of previous brides, I remember Elizabeth who came to me for her bridal makeup and hair.  She had big beautiful blue eyes and a warm color undertone with ivory skin.  So, I searched for colors in oranges, browns and peaches to compliment her and to match her theme colors.
For her eyeshadow, I used a bronzy-brown color with dark chocolate brown eyeliner.  I also used a gold highlighter on the inside of her eyes to make her eyes stand out.  I used a soft peachy-pink lipstick color to compliment her look.
This is the result of her trial makeup…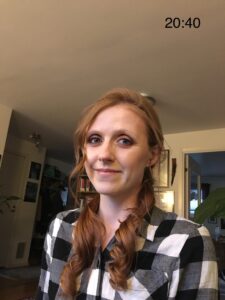 She told me "I am very pleased with how everything went!  My partner loved my makeup too, and thought it really suited both my face and the themes we have for the wedding :-)"
Regarding her hair, she told me that she had long, straight and flat hair.  It doesn't really hold curls or waves or volume.  We looked at a few hairstyle inspirations and we chose something similar to this one, but with curls.
After the trial, she told me "the curls seem slightly looser but honestly I am both surprised and super pleased that they have stayed this well and look this good".  So, we decided to stick to this look for her wedding day.
I think she looked beautiful on her wedding day.  Elizabeth, if you are reading this, thank you for trusting me to do your hair and makeup on your wedding day 🙂  One last thing, she asked me to give credit to Vincent Palma who took the photos on her wedding.
---
Det är 2022 och ett nytt år av brudar och bröllop.  De har släppt covid-19 restriktioner.  Det betyder fler och större bröllop.  Det är så spännande och jag undrar vad kommer att hända i år.  Jag hoppas att mer brudar fråga mig att hjälpa dem eftersom jag brinner för att sminka brud och göra hårstyling eller håruppsättning till dem.
Jag titta igenom bilderna av brudar som gifte sig tidigare och jag kommer ihåg Elizabeth som kom till mig för brudsminkning och hårstyling.  Hon hade fint, stora blå ögon och en hudfärg så ljus som elfenben.  Varma färger passar hon och därför sökte jag färger i orange, brun och persikor att komplementera henne och att matcha hennes teman.
Jag användande en brons-brun färg för hennes ögonskugga och mörk choklad ögonlinje. Då användande jag en guldig ögonskugga att betona hennes ögon.  Jag användande en mjuk persikor-rosa läppstift att komplementera hennes utseende.
Så här sett hon ut på hennes provning…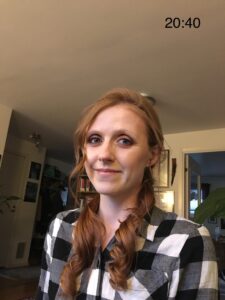 Efter provningen, sa hon att hon var jättenöjd med allting.  Hennes blivande man älskade hennes sminkning också.  De tycker att hennes utseende passade hennes ansikte och bröllopsteman.
Angående hennes hår – hon sa till mig att hon hade långt, rak och platt hår. Man kan inte riktigt få volym eller locka håret.  Vi tittade på några hårinspiration och vi välde någonting liknande, men med lockar.
Efter provningen sa hon att lockarna verkar lite lösare men ärligt talat var hon både förvånad och supernöjd att de har hållit sig så här bra och ser så här bra ut.  Så, vi bestämde oss för att välja den här looken på bröllopsdagen.
Jag tycker att hon var jättefint på bröllopsdagen.  Elizabeth, om du läser den här vill jag bara säga tack för att du anlitade mig att göra dig fin på din bröllopsdag:-)  En sista grej, hon frågade att jag nämna Vincent Palma som var hennes fotograf.