Colourful makeup with Seafolly
Finally, it's summer time!  This means good vibes, loads of sunshine and colourful makeup.
A little while ago, a fashion photographer, Mårten Levin gave me the idea to make makeup films and posting it on Youtube.  This did sound like an interesting idea.  So, I started to create a few looks.
I came across a certain Australian brand called Seafolly at Stockholm Fashion District who sells beautiful, colourful swimwear.
To make a long story short, I asked them if I could borrow a colourful bikini for the makeup film and photoshoot.
They said yes and were so kind to send me more information about the Seafolly brand and where to buy it.  See more information below.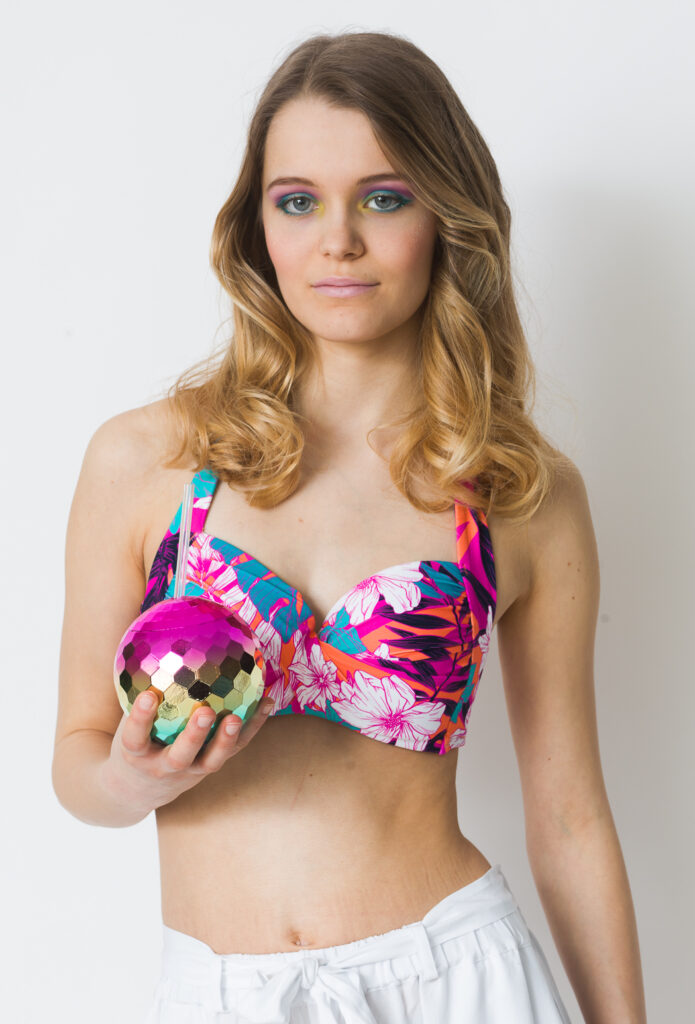 This is the result from the photoshoot and this is the colorful makeup that I did.
Makeup Application:
The model Tyra, arrived at the photoshoot with a clean fresh face which means she already did her skin-care routine.  Then I applied a foundation to suit her skin tone and translucent powder.
Eyeshadow and eyes:
I brushed her eyebrows and applied eye primer and a light pastel pink all over the eye.  The pastel pink eyeshadow is used as a highlighter. On the eyelid is a turquoise colour from Inglot Cosmetics which I blended out onto the crease.  In the crease is a pinkish colour called RB62 from Kryolan.  It appears to be purple because blue and pink eyeshadow creates purple. In the corners of the eye was applied a yellow eyeshadow from Mac Cosmetics.  Inside, on the waterline I drew a line, mint cream from NYX Cosmetics.  On the outer corner of the eye, I created a colorful eyeliner with Anastasia Beverly Hills loose glitter with the colour mystical teal.
Blusher and cheeks:
For the blusher on her cheeks, I used a powder blush in mocha from Mac Cosmetics.  Then I sprinkled a few colourful fairy dust glitter as a highlighter on her cheekbones.
Lips and lipstick:
To hydrate her lips, I used the lip conditioner from Mac Cosmetics and coloured in her lips with a lavender lipstick from Makeup Store.
Feel free to copy this look on your summer vacation 🙂
Here comes more information about the Seafolly brand…
Seafolly swimwear
In the summer of 1975, Seafolly's founder, Peter Halas' folly was to follow his heart and start his own swimwear company in Sydney's Bondi Beach in Australia. Luck would have it, his first international customer in France fell in love with both the product and the 'folly' behind the name, saying it had an aura around it…playful, light, different and a bit crazy…just like Australians. Within a few years, Peter's Folly took off and the brand Seafolly was born.
This brand has always been ahead of the curve, defining generations of summer ever since 1975. When other brands sold in sets, it was Seafolly who made separates, giving women the chance to own their style. When the 80's lycra trend hit the world, it was Seafolly who adapted it first into swim. When new models emerged onto the scene, it was Seafolly who discovered them and made them famous as faces of the brand.
Created from Sydney's tranquil, sheltered coves and sporty surf beaches. Swimwear and beachwear based on beautiful, elegant and bold design of high quality and style since 1975.  Clothes created for those who feel fashion sporty, brave and adventurous.
You can find Seafolly swimwear at NK and Åhlens in Stockholm and specialty stores in lingerie and swimwear all over Sweden.
As for the question, so what happened to the makeup films?…
Unfortunately, after a few tries of creating makeup for the makeup films, the photographer decided that it was too much work that would go into such a film.  Therefore, I decided not to become a Youtuber and sticking to being a make-up artist and hairstylist 🙂
Thank you so much to the brand Seafolly, the model Tyra and photographer Mårten for a wonderful collaboration.
---
Färgglad makeup med Seafolly
Äntligen är det sommar! Det betyder bra vibbar, massor av solsken och färgglad makeup.
Det var en modefotograf, Mårten Levin som gav mig den iden av skapa sminkning filmer och publicera det på Youtube.  Det lät intressant och därför började jag skapa nya utseende.
Jag hittade en Australiensk märke, Seafolly, som skapar vackra färgglada baddräkt. Jag frågade dem om jag fick låna en färgglad bikini av dem för plåtning och de sa ja.  De var så snällt att skicka mig mer information om den Seafolly märke och var man kan köpa den.  Se mer information nedan.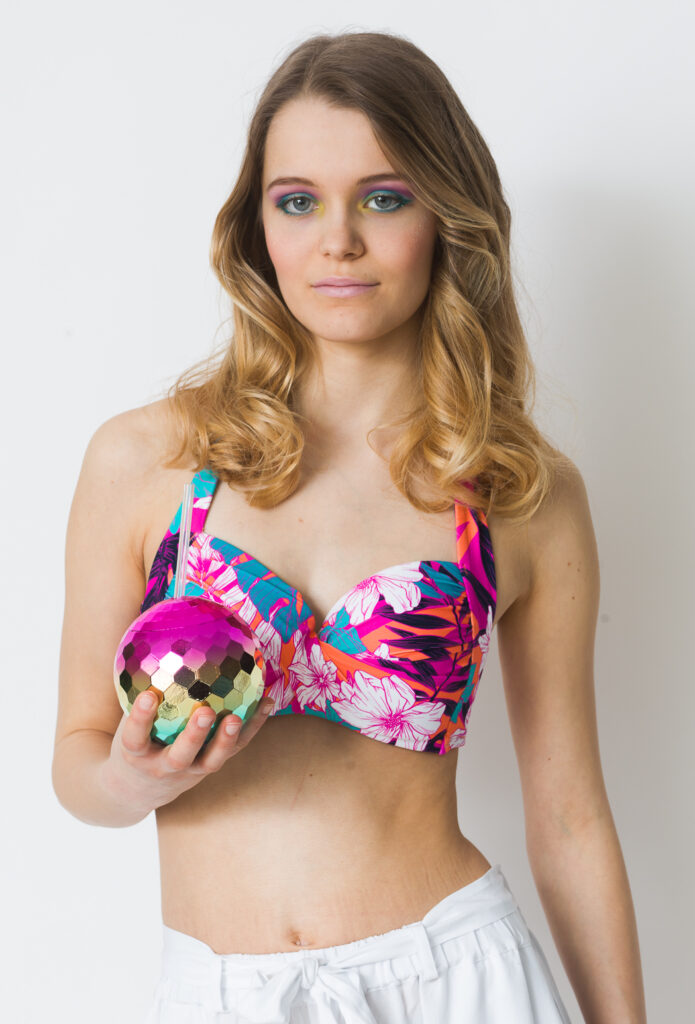 Det här är resultatet från fotograferingen och det här är den färgglada sminkningen jag gjorde.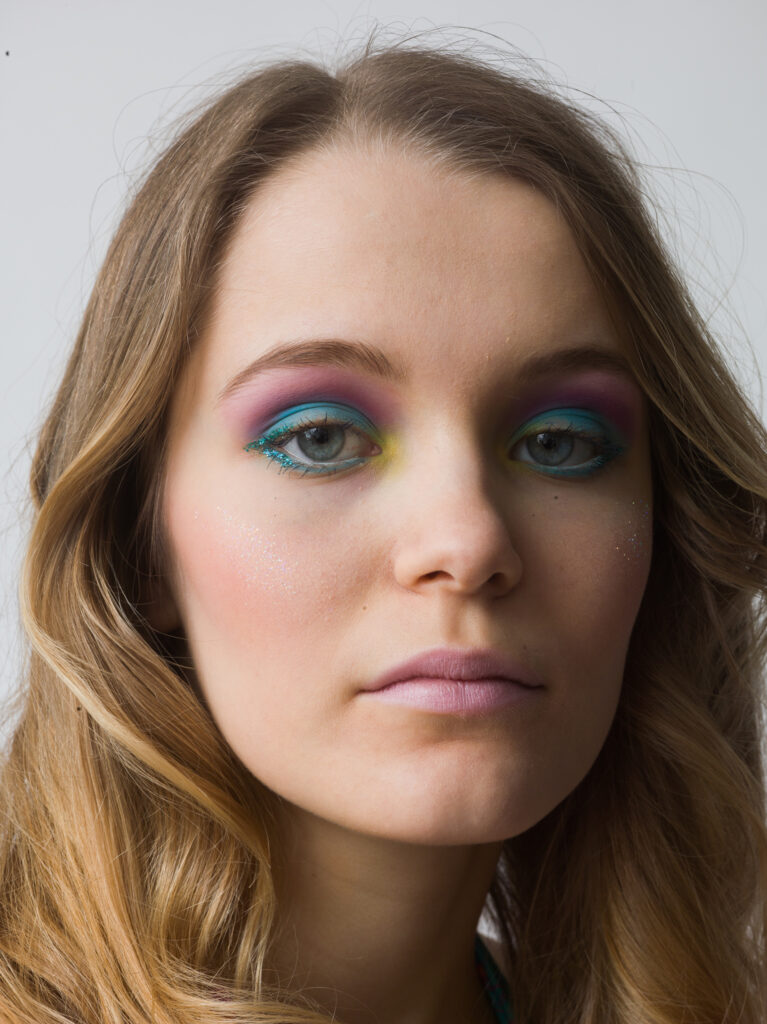 Sminkapplikation:
Modellen Tyra anlände till fotograferingen med ett rent fräscht ansikte vilket betyder att hon redan har gjort sin hudvårdsrutin. Sedan applicerade jag en foundation som passade hennes hudton och applicerade puder.
Ögonskugga och ögon:
Jag borstade hennes ögonbryn och applicerade ögonprimer och en ljus pastellrosa över hela ögat.  Den pastellrosa ögonskuggan används som highlighter.  På ögonlocket sitter en turkos färg från Inglot Cosmetics som jag blandade ut på vecket.  I vecket finns en rosa färg som heter RB62 från Kryolan.  Den verkar vara lila eftersom blå och rosa ögonskugga skapar lila.  I ögonvrån applicerades en gul ögonskugga från Mac Cosmetics.  Inuti, på vattenlinjen ritade jag en linje, mintkräm från NYX Cosmetics.  På den yttre ögonvrån skapade jag en färgglad eyeliner med Anastasia Beverly Hills löst glitter med färgen mystical teal.
Blusher och kinder:
Till rouget på kinderna använde jag ett puder rouge i mocka från Mac Cosmetics.  Sedan strödde jag lite färgglada fairy dust-glitter som highlighter på hennes kindben.
Läppar och läppstift:
För att återfukta hennes läppar använde jag läppbalsamet från Mac Cosmetics och färgade i hennes läppar med ett lavendel läppstift från Makeup Store.
Kopiera gärna denna look på ditt sommarlov och midsommardagen 🙂
Här kommer mer information om märket Seafolly…
Seafolly baddräkt
Seafolly Australia
Skapt från Sydneys lugna, skyddade vikar och sportiga surfstränder. Bad- och strandkläder baserade på vacker, elegant och djärv design av hög kvalitet och stil sedan 1975. Seafolly kollektion av badkläder och strandkläder passar alla oavsett kroppsform och storlek. Kläder skapta för den som känner sig fashion sportig, modig och äventyrlig. Kläder och accessoarer för de som vill uttrycka sig annorlunda i olika stilar varje dag. Ett sortiment för den som vill blanda och matcha mellan färg och yta eller bara komplettera.
Seafolly finns på NK Stockholm, Åhlens Stockholm och specialbutiker i underkläder och bad runt hela Sverige.
När det gäller frågan, så vad hände med smink filmerna? …
Tyvärr, efter några försök att skapa smink för smink filmerna, bestämde sig fotografen för att det var för mycket arbete som skulle läggas ner i en sådan film. Därför bestämde jag mig för att inte bli Youtuber och hålla mig till att vara make-up artist och hårstylist 🙂
Tack så mycket till märket Seafolly, modellen Tyra och fotografen Mårten för en härligt samarbete.