Look Good Feel Better
Makeup lesson for Cancer patients: / Makeup lektion för Cancerpatienter:
The chemical Cancer treatments dries out the skin and makes it sensitive.  The products which we use are caring and kind to your skin.
De kemiska cancerbehandlingarna torkar ut huden och gör den känslig. De produkter som vi använder är snäll mot huden.
Makeup lessons for Beauty Advisors and their clients: / Makeup Lektion för Hudvårdsrådgivare och deras kunder:
Together, we will go through the planning process for the workshop.  We will create a strategy on how we can help your clients in the best way and how we can increase sales for you.
Tillsammans går vi igenom planeringsprocessen för verkstaden. Vi ska skapa en strategi för hur vi kan hjälpa dina kunder på bästa sätt och hur vi kan öka försäljningen för dig.
Makeup lessons and internship with make-up artist students: / Makeup lektion och praktik för make-up artist studenter: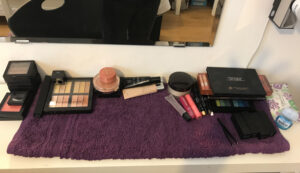 The workstation of a previous make-up artist student.  Organisation and cleanliness is just the beginning.
The advantage of my practice is that you will learn something new every time; you get to see what it is like to work as a make-up artist; you obtain good experience in your profession and get professional pictures when we work together on a photoshoot.
Arbetsplatsen av en tidigare make-up artist student. Organisation och renlighet är bara början.
Fördelen med hur jag jobbar är att du kommer att lära dig något nytt varje gång; du får se hur det är att arbeta som make-up artist; du får bra erfarenhet i ditt yrke och får professionella bilder när vi arbetar tillsammans på en fotografering.